Build scalable F# services faster with CloudSeed.
The simple, scalable project boilerplate for F# / .NET.
Production Ready
CloudSeed provides a lean core with sane, modular defaults. You can ship to production as is and easily extend / modify / replace to fit your usecase.
Easy to Extend / Modify / Replace

Replace anything from the core web server to ORM to DB technology in a few lines. CloudSeed is built with a modular infrastructure, allowing you to extend / modify / replace any component to fit your usecase.

Data Integration + Upgrades

Ships with Dapper ORM and DBUp for easy, transparent data access and migrations / upgrades. Relies on dotnet standard interfaces for easy extensibility / replacement.

Run Anywhere

Fully containerized via Docker and docker-compose for hosting and development anywhere.

TDD Ready

Full testing suite with live, local DB for integration tests.

Performant by Default

Includes core library wrappers that make it easy to spin up sane caches / queues to keep your service responsive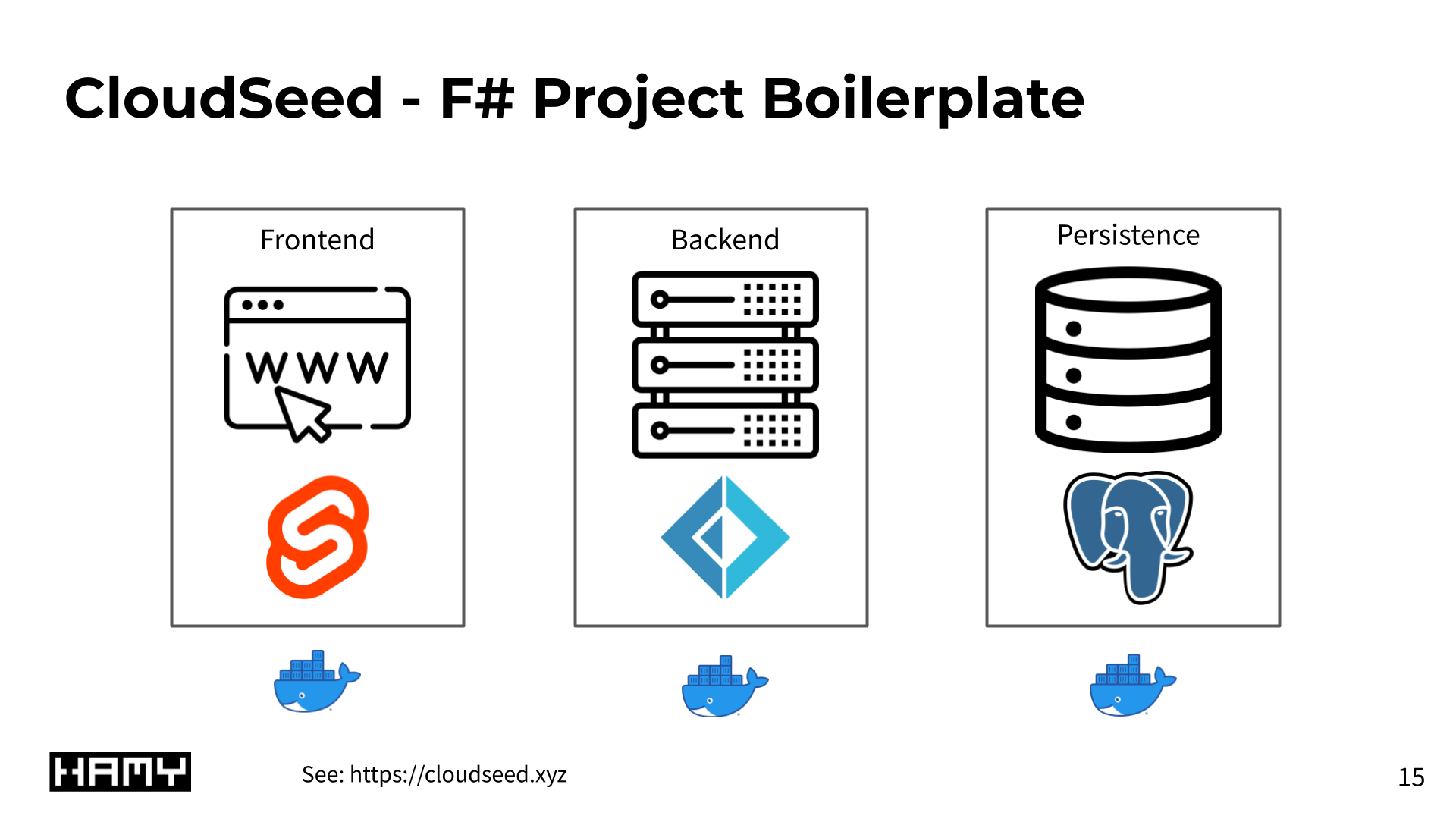 What's Included
CloudSeed ships with boring, battle-tested technologies by default so you can ship as-is.
Containerized, Orchestrated Apps

Each app is fully containerized via Docker with top-level docker-compose for orchestrating serving and testing against a live, local DB

Backend (Fsharp / .NET)

CloudSeed is built to be API-first with minimal external dependencies. By default: Giraffe on .NET (server), Dapper (ORM), docker-compose to spin up full local copy with live DB.

Backend Tests (Fsharp / xUnit)

Comprehensive testing suite ready for TDD. XUnit (testing framework) orchestrated with docker-compose for full integration tests against a live local DB.

[Optional] Frontend (Svelte / SvelteKit)

CloudSeed ships with a barebones frontend built with Svelte / SvelteKit. Easy to replace with the web framework of your choice.

[Local] Development Database (Postgres)

A containerized Postgres instance for local testing / serving against a live DB. Easy to replace with a different DB technology.